FROM LAND MINES TO ECO CLOTHING: THE UNLIKELY STORY OF AMOUR VERT
HOW ONE COUPLE DITCHED THE DEFENSE INDUSTRY IN A QUEST TO MAKE THE HUGELY WASTEFUL FASHION BIZ MORE ECO-FRIENDLY.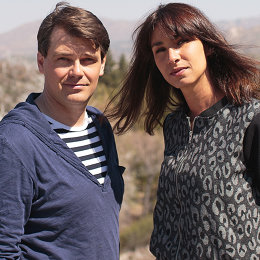 Frehsee, the company's CEO, sees the pair's unlikely career path not as a hindrance, but a boon that actually worked in their favor. "Given our background, we felt confident that we could bring a very efficiency-oriented mindset to this rather old-fashioned industry," he says. "We looked at things with clear eyes, so we were in a great position to disrupt."
The Paris native scoured the market for eco-conscious clothing options, but what she found was either too casual, like yoga attire, or too expensive for everyday wear. "I just wanted to find a nice, contemporary brand that was reasonably priced and transparent, with great value, that I could trust," she says. "I never saw myself going the entrepreneurial path, but when we had the idea for Amour Vert, we decided to do it together, as a team."
Frehsee and Balti have a hands-on ethos at every step in the manufacturing process, down to the most basic components. All of their wood-based fibers are sourced from a sustainable forest in Austria. They even develop custom fabrics with a mill in Los Angeles, creating signature blends of recycled polyester, wood fibers, and organic cotton to meet Balti's standards for how they should look and feel. "I really wanted the fabrics to reflect our commitment to sustainability and reducing waste," she says. "There are a lot of materials we can't use, so we're limited in a way. But that forces us to be creative."
All Amour Vert garments are assembled in San Francisco, where the company works with nine factories they vet for fair treatment of workers. They use non-toxic dyes, and have tweaked their production process to reduce the number of times each garment is washed, to save water. "We take on every little bit of our supply chain and see where we can improve," Frehsee says. "To be more sustainable and more effective, every day we have to look at one part of our supply chain and think, 'What can we do better?'"
The company also supports sustainability more overtly: For every T-shirt sold from the line's T(r)ee collection, they plant a tree. They have so far planted 28,000 of them, in partnership with the conservation nonprofit American Forests.
Down the road, the couple plans to develop men's and children's clothing, and eventually break into home décor. "There's always more opportunity; there's always more to do," Frehsee says. "Our mission is to change this industry. We want to build a company that defines a generation."